Helloooo! Thought I would update you on my life and give a little more insight into me personally :)
To start off with, you probably wont know that I suffer from a condition called Coeliac Disease. It's basically an auto-immune disorder (where your body attacks itself) whenever I eat gluten which is found in wheat, barley, rye and oats. Each time I try to ingest any of those grains, my immune system thinks that it is actually a bad thing and so as my small intestine is trying to absorb the gluten, the white blood cells attack the villi on the surface of the small intestine which makes me extremely ill!
I thought I would bring this to light as not many people really know about it, and recently a lot of people are realising they have been undiagnosed for years with symptoms such as bloated bellies, stomach pains and other gastrointestinal issues.
I am lucky really, I have had it since weaning (12-18 months) so I have never known any different, and when people say "do you not wish you could eat certain things like a cake or doughnut" etc, I just think well no not really, I've never had the taste for it. But people who eat a normal diet and have undiagnosed coeliac disease/other gluten intolerances they will obviously have to get used to watching what they eat and not being able to eat certain treats they normally would.
It isn't a difficult condition to live with, providing people stick to a gluten and wheat free diet. The downsides are cross contamination as certain grains such as corn are grown nearby fields of wheat and this can actually contaminate the corn! It really is that sensitive of a condition.
I wanted to write this post in part to see if there are any other sufferers out there? It would be nice to talk to someone and share experiences/different restaurants as at the minute gluten free seems to be all the rage! What with Pizza Hut and Dominos now doing GF pizza bases (Dominos is personally my favourite), more and more places being aware of the risk of cross contamination and having a separate gluten free menu and the increase in products on supermarket shelves it would be nice to share some thoughts/reviews!
On a side note, I have also been trying to do a lot more exercise recently. I am at University doing an Equine degree and so I obviously get a bit of exercise doing that, have started loaning a horse at the Uni's own livery yard which means I am able to ride every day which is brilliant but I have also started the Insanity Workout!! (I'm mad, I know haha!)
So when I'm feeling more confident I may post some before and after pictures as I don't personally think there are enough out there and I find it really motivating to see the results of peoples' hard work and effort!!
So far the insanity workout has proved to be amazing, I have only been doing it for a couple of days but can already feel the difference in my leg muscles as they feel more toned!
I have decided not to change my diet as I don't particularly want to lose weight, I would just like to tone up so we will see how that goes. If I stay exactly the same I may have to cut down on the Milky Bars, but until then I refuse! Mwahahaha!! >:D
I also have a few new purchases as over Easter I was lucky enough to go away with my parents and sister for a week to New York! I will have to do a blog on that soon :) it was a wonderful trip! As you can imagine I came back with a suitcase of clothes and also a few makeup goodies which I will review now!
*I repurchased the Benefit Hello! Flawless foundation as it is one of my all time favourites which you can see a review of in a previous post*
Urban Decay Pore Perfecting Primer
I bought this as I had heard good reviews and needed a new primer. I must admit, I am not the best when it comes to skin care and so I thought I would try to be better and concentrate on looking after my skin! I have noticed when using this primer that a little goes a long way, so just be warned on that! I must say I am in love with this stuff, it makes my skin beautifully velvety soft and my pores barely visible! It is also a perfect clean slate to put foundation over the top of as it keeps the skin even and not bumpy/dry when combined with a moisturiser. I have also noticed a BIG payoff in terms of my foundation staying on for hours, 5/5 for this baby so I definitely advise you to purchase it!
Sephora Retractable Kabuki Brush
I bought this as a last minute spur-of-the-moment thing as I didn't need a new brush, it was just reduced from $18 to $5 so I decided to buy it. It is a wonderful little portable brush and makes the application of powder foundations so much easier than a sponge! It can be used both for a sheer layer and also buildable coverage for those off-skin days. The brush itself is extremely high quality and really soft and lovely to use! 5/5 for sale price (4/5 for full price as I think $18 is quite expensive for a little kabuki brush) and I would definitely recommend :)
Mac Turquatic Perfume Blend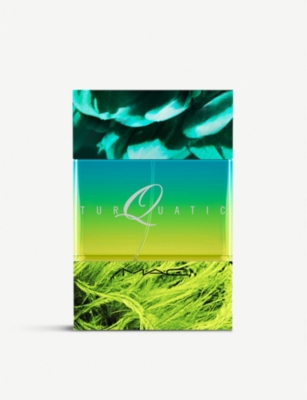 Again, this is another product I have heard Youtubers and Bloggers alike rave about, and I can see why! This is an absolutely gorgeous summer scent in a beautiful bottle (the packaging is important too!) and I cannot wait to have this as my new signature scent. 10000/5! It is probably one of my favourite perfumes to wear, ever!!
Benefit They're Real Mascara
Now I have to be honest. I think I am the only person in the entire world who isn't sold on this mascara. I don't know why it works so badly for me, I know you are supposed to apply mascara by wiggling the wand side to side with any mascara brush but I cannot do that as it really hurts my eyelash follicles! (Don't ask why haha, I don't know!) I'm not sure if this is the only sure fire way to apply this mascara to give the false lash effect that so many people seem to have obtained from using this, but it makes my eyelashes EXTREMELY clumpy and I have noticed that my eyelashes seem to be in really bad condition (short and sparse) after using it! I'm sorry Benefit, you normally win me over with every product but not this time :(. A very sad and regretful 2/5 when taking into consideration the quality and price, for me. You will have to make up your own decisions on this one!
I'm sorry this post has been a whole mish mash of me blabbering on but I just have so much to say! Hopefully if you made it to the end of this you will sigh a deep sigh of relief haha and I would like to thank you for taking the time to read it!
Please post comments on whether you agree/disagree with any comments made, any fellow coeliacs out there who want to chat, anyone else who is trying to do some toning up or just comments in general! You make my day when people take the time to post on my blog :).
Thank you so much again for reading, hopefully the next post won't be as long!
Emily
xxx